Scoil Acla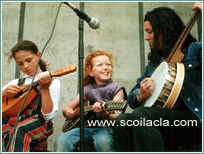 Scoil Acla is a summer school that offers tuition in traditional Irish music, arts and culture. The original Scoil Acla was established in 1910, and the event has been held every year since being revived in 1987.

Scoil Acla provides expert tuition in a range of disciplines for people of all ages and abilities. Musical tuition includes the harp, tin whistle, fiddle, concert flute, uileann pipes, banjo and accordion. A writers workshop is provided, as are courses in the visual arts.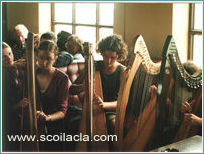 For full details of the current Scoil Acla schedule, please see the Scoil Acla website.

For non-participants, including parents of children taking part in Scoil Acla, there are regular public concerts and performances, including a gala performance on the final day of the summer school. Scoil Acla is a highly regarded traditional Irish summer school, and for visitors it provides an authentic view of traditional Irish arts and culture.

Fadó in Acaill ní raibh hata ag gach duine, ach bhí hata ag an bpobal. Bhíodh an hata seo ar crochadh ar phosta i nGob a' Choire agus cead ag duine ar bith a bhí ag dul go dtí an baile mór, an hata seo a chaitheamh agus é a fhágáil ar ais ar a mbealach abhaile. Tá muintir Acla tagtha chun cinn ó shin; agus tá an comórtas seo bunaithe ar an sean-nós.