Travel to Achill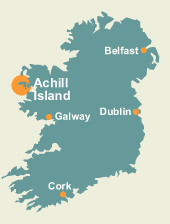 Achill is located on the west coast of Ireland, in County Mayo. Achill Island itself is connected to the Curraun Peninsula by a bridge at Achill Sound.
The nearest towns to Achill are Castlebar and Westport, and both of these towns offer railway stations and bus connections to the rest of Ireland as well as access to the main east-west N5 motorway.
An international airport is located at Knock, about 90 minutes drive from Achill. Further afield, Shannon airport is about 3 hours drive, while Dublin airport is 4-5 hours.
The main ferry ports into Ireland are Dublin and Dun Laoghaire (serving Liverpool and Holyhead), Rosslare (serving Cherbough, Fishguard & Pembroke), Belfast (serving Liverpool, Heysham and Stranraer) and Cork (serving Roscoff and Swansea). The main ferry companies are: