Achill Landscape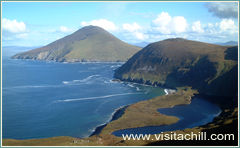 Achill Island is located at a latitude of approximately 10 degrees west and occupies an area of about 57sq miles. Its geography features a combination of glacial and coastal features. Achill's location as one of the most westerly islands in Europe, and the climatic effects of the Gulf Stream, create a distinctive combination of flora and fauna.

Achill's two highest peaks are on Slievemore (671m) and Croaghaun (668m). The latter, located at the western end of Achill, features five corrie lakes on its slopes. These include Lough Bunnafreva West, perched precariously at over 300m above sea level, and Lough Nakeeroge East (Annagh), which at just 15m above sea level is the lowest corrie lake in Ireland. The northern side of Croaghaun features dramatic cliffs, some two miles in length and up to 600m in height, which are said to be the highest sea cliffs in Europe. There is some debate as to whether the peaks of Croaghaun and Slievemore were covered with ice during periods of glaciation; one interesting feature of both peaks is the presence of rare Artic alpine flora such as juniper. Other significant peaks on Achill include Minaun (466m) and Curraun Hill (524m).
Two-thirds of Achill (Island) is covered by peat (bog) and this probably accounts for the relatively low number of plant species native to the island. The most common flora is heather, while trees are almost entirely absent from Achill Island except for Glendarary wood near Achill Sound. On the Curraun Peninsula a significant area of land has been (commercially) forested in recent times.
An interesting feature of the Achill landscape are the areas of machair. The term machair derives from the Irish 'machaire', meaning a plain stretch of level ground. In geographical terms it refers to flat, extensive plains of wind-blown sand which develop behind sandy beaches. This phenomena is unique to the north-west coast of Ireland and parts of Scotland. There are three areas of machair on Achill, at Dugort, Valley and Keel. This rare habitat is of special scientific interest and is protected by EU directives.
One of the possible origins of the name Achill is the Gaelic word 'acaill', meaning eagle, and one of the earliest references to Achill came in 1235 when the Annals of Loch Ce refers to 'Eccuill' (Eagle Island). In later centuries travellers would remark on the golden eagles white tailed sea eagles on Achill, mainly on the peaks of Croaghaun. The last reported sighting of an eagle on Achill was in 1912. A number of rare bird species are still found on Achill, including the chough, golden plover and peregine falcon. Keel lake is often used as a resting point for barnacle geese during migration.