This is Achill, in the west of Ireland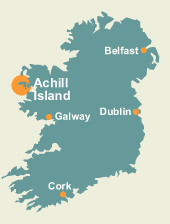 Lashed by the ocean, carved by the wind and swept by the rain, Achill is one of Ireland's most spectacular and beautiful places.
Achill's rugged landscape features dramatic cliffs, soaring mountains, remote lakes and secluded beaches - including no fewer than five Blue Flag beaches.
This unique landscape is ideal for a wide range of outdoor activities, from surfing, windsurfing and scuba diving to hillwalking, fishing, golf and many more.
A visit to Achill can be as active, or as relaxed, as you choose. Achill offers over a dozen quality restaurants with fresh Atlantic seafood a speciality - and its pubs and bars provide a traditional Irish welcome.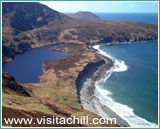 The imprint of past generations is everywhere on Achill, from megalithic tombs to ancient forts, historic churches to deserted villages.
Achill's long history features a rich cast of characters, from the Pirate Queen Granuaille to artists and writers including Paul Henry and Heinrich Boll.