History of Achill
Achill has a history of human settlement that is at least 5000 years old. The remains of megalithic tombs and monuments suggest settlement by Neolithic man in the 3rd or 4th centuries BC. The presence of these people would have brought major changes to the landscape of the area, which at the time would have been heavily forested. The Neolithic culture would have brought crop cultivation to Achill, requiring the clearing of forest for cereal crops, and also walled fields for livestock. It is estimated that at the end of the Neolithic period, about 4000BC, Achill had a population of 500-1000 people.
Evidence of Bronze Age (c. 2000BC) settlement on Achill includes hut platforms and associated field systems and enclosures in the area of Slievemore.
During the Iron Age (c. 400BC) settlement expanded across Achill Island. The remains of promontory forts at several locations along the coast demonstrate the dispersion of people and also the combative nature of life at that time.
The Early Medieval Period dating from about the 5th Century AD would have seen great expansion in agriculture, in particular with the introduction of more iron implements and tools including the plough. Evidence of Early Medieval artefacts have been reported at Keem Bay, Slievemore, Kildavnet and Achill Beg island. The arrival of Christianity into Ireland at about this time is reflected in two remnants on Achill: at Kildavnet the ancient church is named after St. Damhnait (St. Dympna), a 7th Century saint, and at Slievemore there is an ancient church site and Holy Well both dedicated to St. Colman, also a 7th Century saint.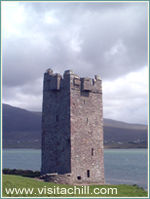 Achill lay within the ancient Kingdom of Umhall which has been ruled at various times by a small number of families or clans including the Butlers, the Burkes, the O'Connors, the O'Donnells and, probably most famously, the O'Malleys. The name O'Malley is still common in Achill today, and the original Clan O'Malley has had links to the area since at least the 12th Century. The best known member of this family was Granuaille (Grace O'Malley) (1530-1603), the legendary Pirate Queen. Under her leadership the O'Malley's controlled the waters of the western seaboard, imposing taxes and levies on all ships passing through this territory.
In the 17th Century the Cromwell clearances from the lush farm land in the north and east of Ireland dispersed many native Irish families into the remote and harsh landscape of the west. It is thought that many Ulster families sought refuge in Achill, and the prevalance of Ulster surnames in modern Achill supports this. Names such as Gallagher, O'Donnell, Corrigan, Cafferkey and Mulloy are common in Achill but have their origins in Ulster.