Home > Attractions > Keem Bay
Keem Bay, Achill, Co Mayo, Ireland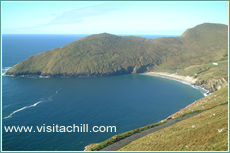 Keem Bay, at the western end of Achill Island, is one of the most picturesque bays in Ireland. It is accessible by road over a twisting clifftop route on the side of Croaghaun mountain. Keem Bay is virtually uninhabited (the only building is a former coastguard station) and provides a peaceful and magnificent retreat from the 21st century.

At the heart of Keem Bay is the beautiful fine sandy beach. This strand is bordered on two sides by cliffs; to the east by the slopes of Croaghaun mountain, and to the west by a spar called Moyteoge. At the top of this spar, at an elevation of about 200m, is a former coastguard watch-house. For hillwalkers, this spot marks the start of a a breathtaking 1.5km walk along the top of the cliffs of Benmore towards Achill Head, the most westerly point of Achill Island.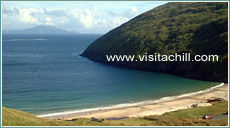 At the far end of the stepped valley of Keem Bay is the booley village of Bunowna. This consists of the remains of about 17 circular stone cottages which were formerly used as a summer residence for herders tending their cattle in summer pasture.

The eastern wall of this valley is formed by the slopes of Croaghaun (668m). The north face of this mountain consists of steep cliffs, said to be the highest sea cliffs in Europe.

Keem Bay has a strong connection with fishing. It was the location for much of Achill's shark fishing industry during the 1950s and 1960s. At that time the basking shark was a frequent visitor to the waters around Keem Bay, and it was hunted for its liver oil which was exported from Achill to provide fine grade lubricant for the aerospace industry. Much of this fishing took place in currachs, the traditional canvas-covered wooden vessels of the west of Ireland. Keem Bay is most likely the location used by the artist Paul Henry when painting his famous canvas 'Launching the Currach' (in the National Museum, Dublin).