New Year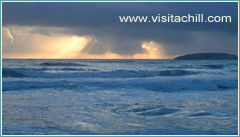 Achill Island lies at an approximate latitude of 10 degrees west, making it one of the most westerly points in Europe.

This means that Achill is one of the last places in Europe to see the final sunset of the year. This location, along with the spectacular landscape and big Atlantic skies, makes Achill a fitting vantage point to see out the old year and to welcome the New Year.
Achill has a long tradition of pipe bands; many villages have their own pipes and drums band, some established for over 50 years. At midnight on New Years Eve these bands welcome the New Year with a rousing and unforgettable chorus. The pubs and bars on Achill also feature traditional and modern music and entertainment during the Christmas and New Year holiday period.

On New Years Day there is an annual swim in the Atlantic waters of Achill at Dugort. This bracing dip is perfect to kickstart a New Year get-fit campaign - or you can just watch and admire the courage of the bathers!