Home > Activities > Watersports
Watersports on Achill, Co Mayo, Ireland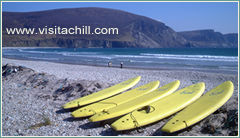 Visit Achill for one of the finest selections of watersports available in Ireland.

Achill's five Blue Flag beaches provide safe bathing for all, from families with children to serious sea swimmers. The Atlantic waves at Keel strand make it a popular destination for surfing and sea kayaking. A large, shallow inland lake at Keel is ideal for canoeists and windsurfers of all abilities. Achill's clear Atlantic waters and rich marine ecology provide an outstanding environment for scuba diving.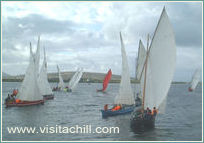 A number of local providers offer hire of watersports equipment, mainly surf boards, boogie boards, canoes and sea kayaks. Tuition in a number of watersports activities, including windsurfing, is also available at Keel. The large lake at Keel has a shallow bottom and is ideal for beginners learning how to windsurf. For the more proficient windsurfers, the Atlantic breakers at Trawmore Strand (Keel) provide a good challenge.

Achill has a long maritime history and rich marine ecology. These, combined with the clear waters around Achill Island and the Curraun Peninsula, make it an ideal location for scuba diving. There are two scuba dive schools operating in Achill.